Despite the seasonal decline in export sales, shipments of dairy products in 2022 remain the highest in recent years.
World prices for dairy products fell for the fifth month in a row, due to a number of factors.
The first is a sharp reduction in imports from the largest consumer of dairy products, China, which has a strict anti-Covid policy. Secondly, the weakening of consumer sentiment in European countries against the backdrop of high food prices. And of course, the russian war against Ukraine, which significantly affected the growth of the production cost of both milk and dairy products.
The analyst of the Association of Milk Producers Yana Linetska reports.
Thus, according to the World Food Organization (FAO), the Dairy Price Index in November fell by 1.2% compared to October and amounted to 137.5%. p. The decrease of the index is observed for the fifth month in a row. However, its value is still 9.2% higher than in 2021.
Currently, the Ukrainian dairy market directly depends on the trends of the world market, which we have been observing in recent months. However, in the July-September period, domestic exports were supported by the competitive price of Ukrainian dairy products on the European market, which is the main "trading platform" for domestic exports.
Thus, according to estimated data, in November, dairy factories exported dairy products for a total value of 23.92 million dollars, which is 6% less than in October, but still 47.3% higher than in November last year. In eleven months, it was possible to supply 50% more dairy products to foreign markets than last year — a total of 235.8 million dollars.
This very fact became a significant support in restraining the fall in milk prices during the war. Moreover, this period became an incentive for many milk processing plants to work on the European market and confirm the quality of their products by receiving "Euro numbers".
A significant support in the establishment of the export of Ukrainian dairy products to the EU was the temporary cancellation by the Council of the EU of customs duties and fees on Ukrainian exports directed to the European market in order to help restore Ukrainian business, which suffered as a result of russian aggression. According to the decision, trade liberalization entered into force on June 4, 2022 and should last until June 5, 2023.
AMP, on behalf of the dairy community of Ukraine, thanks for this step of support and emphasizes that in the conditions of russian energy terrorism against Ukraine and the impressive level of direct and indirect losses of the agricultural industry due to Russian aggression, the regional industry needs to continue such simplified trade conditions for at least the next 5-10 years.
The dynamics of the export of dairy products in 2020-2022, million dollars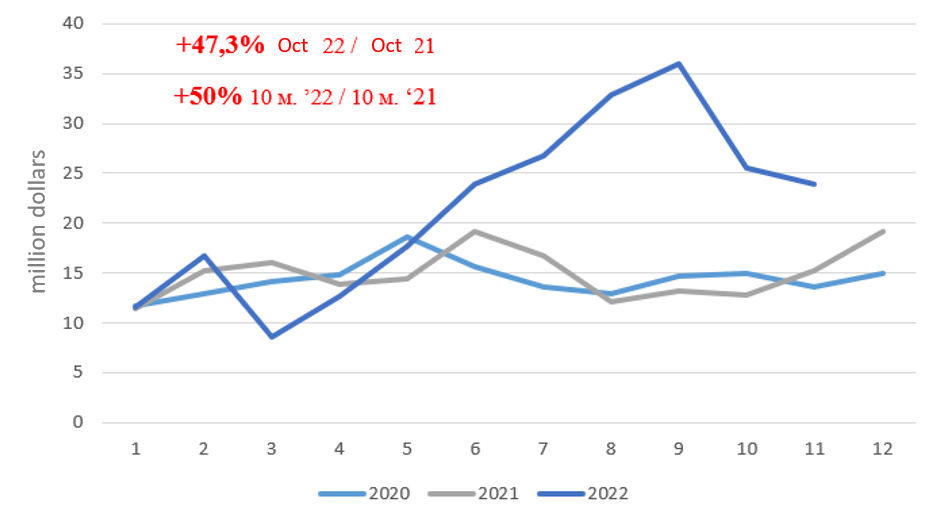 Press service of the Association of Milk Producers