Photo: milkua.info
As of June 8, 2022, total losses from the war in Ukraine's agriculture reached 4.3 billion dollars. These figures are not final as the war continues and the losses are growing every day. Anna Lavrenyuk, General Director of the Association of Milk Producers (AMP), told about the main challenges faced by dairy farms during the webinar «Dairy farming in war: problems, trends, practices», - milkua.info tells.
In particular, she pointed out the following:
disrupted logistics and supply chains;
lack of working capital;
lack of input resources;
shortage and increase in fuel prices;
lack of staff;
loss of assets and goods;
loss of financial and administrative documentation;
risks of losing roughage and grain of a new harvesting season.
The first problem that dairy farms had to deal with, especially in the hit regions, was the disruption of logistics and supply chains. Farmers were not able to sell produced milk, as well as livestock, despite the permission to export from Ukraine commercial and breeding cattle, which could have been quite a serious financial support to run the business. Therefore, today, in addition to promoting dairy product exports, task #1 one is to agree on veterinary certificates for the livestock transit through Bulgaria and Romania to facilitate the livestock export to potential markets. All this together could provide financial resources for businesses to survive.
The farms are critically short of inputs: feeds, veterinary drugs, breeding material etc. Today, it is very difficult to deliver even humanitarian aid to the enterprises in the frontline zone and in the occupied territories due to blockades by Russia's soldiers and heavy shelling.
All farmers, without exception, suffer from the shortages and increase in fuel prices. The situation is extremely difficult at the enterprises located in the temporarily occupied territories with limited access to electricity and communication. They need diesel fuel for the electricity generators to ensure the work of the farms, as well as for local communities.
Agricultural enterprises are experiencing lack of staff due to forced migration and mobilization, not to mention injuries and deaths of people. Today, the number of temporarily displaced persons is 6 million, about 7 million left Ukraine, mostly women and children. The farm staff consist mainly of women.
Approximately 800 industrial dairy farms suffered from the war and lost assets and goods produced: animals, barns, farming equipment, feeds. The losses do not stop and the recent shelling of dairy farm in Sumy region has become a bitter testimony to this.
Thefts of machinery and grain from the temporarily occupied regions has become more frequent. Russian invaders are putting pressure and threatening physical violence against owners who try to defend their business.
Another problem was the loss of financial and administrative documentation. Businesses that were under the occupation or in the line of fire reported that the occupiers stole office equipment and destroyed documents. Without this, farmers cannot even try to apply for state support programs, for example, loans.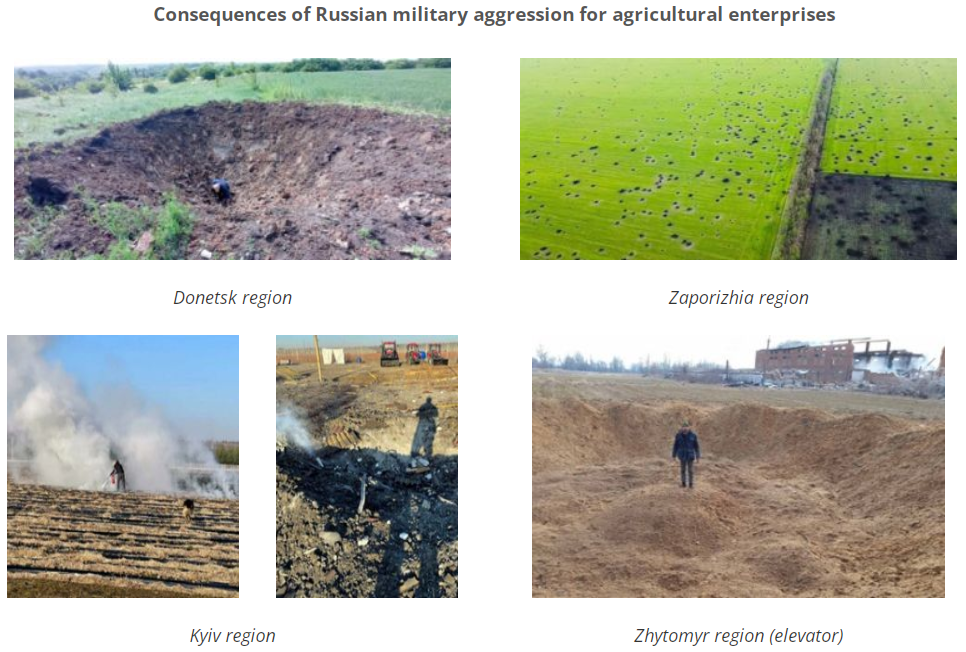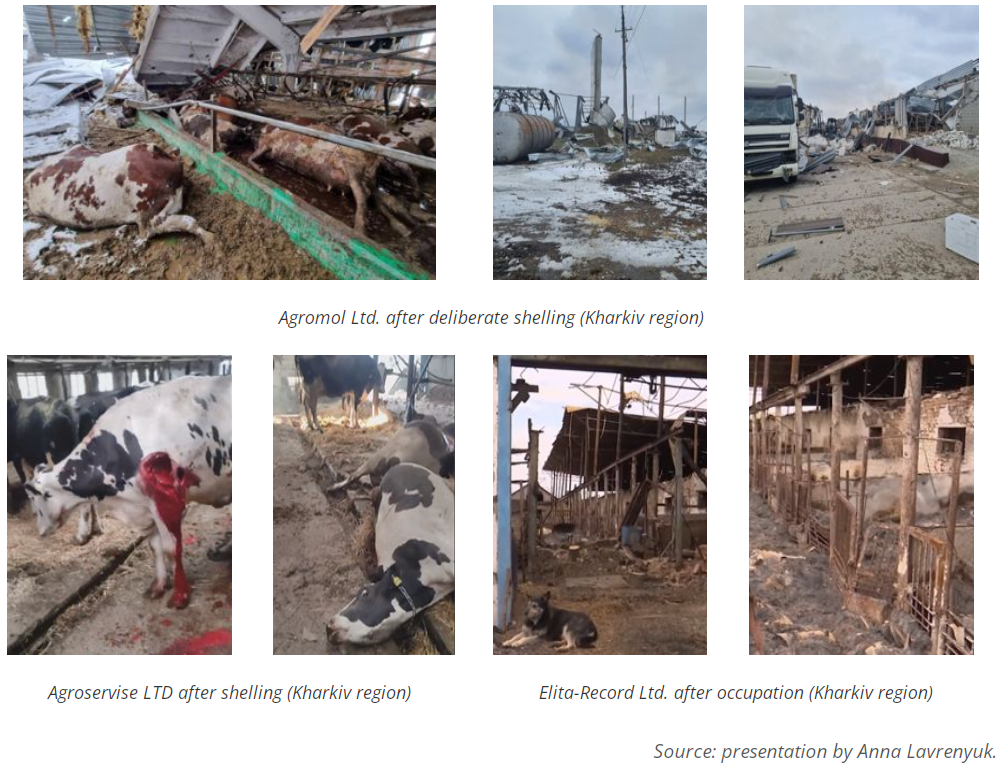 In the war-torn regions, especially in the occupied ones, there is a high risk of losing roughage and grain of a new harvesting season. In particular, in Chernihiv, Kyiv, Sumy and Kharkiv regions after deoccupation, a significant part of the fields is contaminated with explosives and enterprises do not have the opportunity to safely harvest feeds. Part of the fields and crops were simply destroyed.
In the occupied territories of Kharkiv, Zaporizhia, Mykolaiv, Kherson, Luhansk and Donetsk regions, farmers cannot enter the fields because the equipment is blocked or confiscated. Survival of people and farms is questionable.
The level of losses of dairy farms indicates that they need significant support. They almost do not have resources left to restore.
Despite the critical conditions, Ukrainian farmers, even during the temporary occupation, are volunteering — sharing their resources, providing food to the front and local communities.
The main task for dairy farmers today is to survive, in part due to technical and expert support, to rebuild farms on a new basis after the war.
We would like to remind our readers that Ukrainian dairy farms lost at least 50 thousand cows for three months of the war.