The dairy industry experienced the greatest losses in production volume in the first months of the war. The occupation of the territories and military actions had the effect that a large number of livestock was simply destroyed by the russian invaders, and part of the economy was forced to be sold for nothing, at best, to be transported to safer regions. Interruptions in the supply of fodder and veterinary drugs, as well as the supply of electricity, also had an impact on the productivity of cows, which ultimately led to a reduction in the total weight of production.
How we ended the year - we discuss in detail with the analyst of the Association of Milk Producers Yana Linetska in the final report.
Yana Linetska notes that, according to approximate estimates, in 2022, 34.2% of milk was produced in industrial farms, and 65.8% - in households. In total, 7 million 659.9 thousand tons of milk of all types were milked during the year, which is 12.1% less than last year.
Due to the war, the industry did not receive 1 million tons of milk.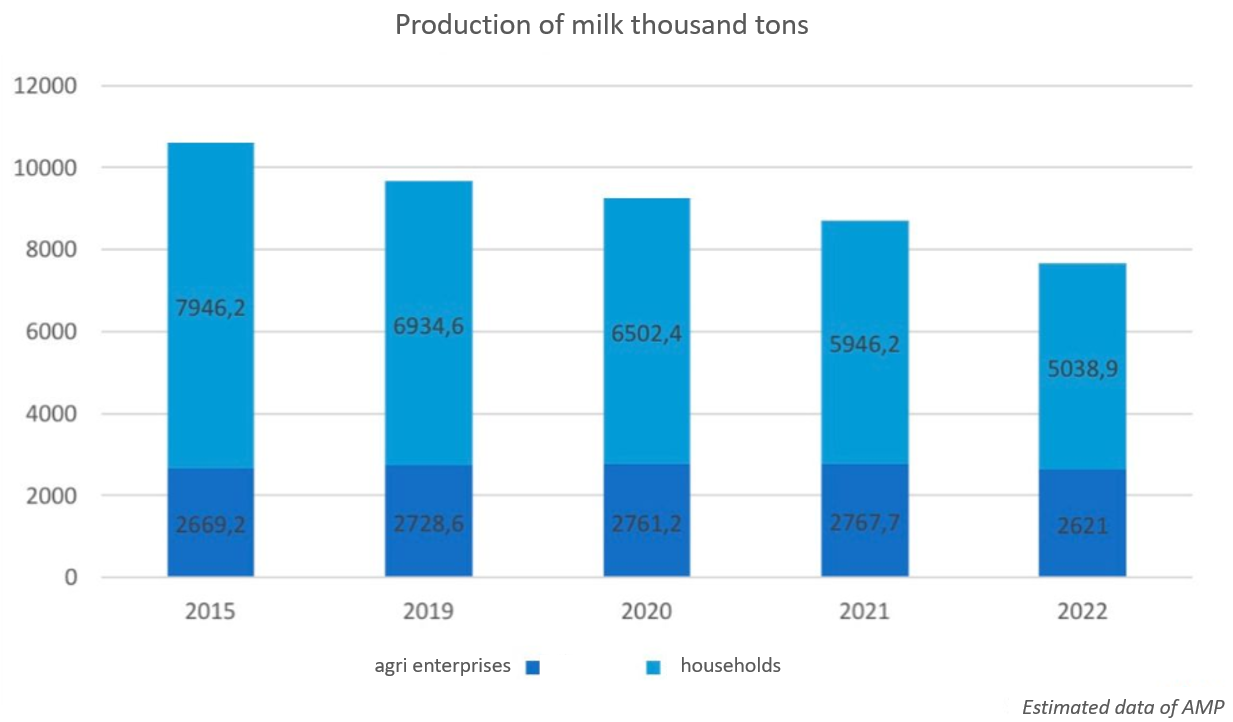 Agricultural enterprises provided 2.621 million tons of milk, which is 5.3% less than in 2021. Production decreased the most in Kharkiv Oblast (-54.6%; 111.7 thousand tons), Sumy Oblast (-5.6%; 154.2 thousand tons) and Odesa Oblast (-4.1%; 21.3 thousand tons) t).
❝On the other hand, the central and western regions increased production due to business relocation and increased demand for raw materials in these regions. Thus, milk production increased by 23.4% in Chernivtsi region (9.5 thousand tons), by 21.5% in Ternopil region (143.2 thousand tons), and by 8.4% in Vinnytsia region (242.9 thousand tons). t). As a result, the three leaders in milk production by region have changed somewhat — Vinnytsia has displaced Chernihiv Oblast from third place❞, Yana Linetska reports.
The dairy farms of Poltava (394.8 thousand tons; +1.2%), Cherkasy (321.3 thousand tons; +8.5%) and Vinnytsia (242.9 thousand tons; +8.5%) produced the most industrial milk. 8.4%) oblasts.
Households reduced production more significantly. In general, the households sector, according to preliminary estimates, produced 5.038 million tons of milk, which is 15.3% less than in 2021. The population fleeing the war from the occupied territories and the zone of active hostilities was forced to sell or leave their livestock, saving the most valuable.
According to Yana Linetska's forecasts, from the end of February to March, milk production in the country has a chance of growth, so the development of the market will depend on the activity of demand, both external and internal.
More about the state of the dairy industry - in "Expert opinion" at the link: https://bit.ly/3Y9gEP8
Press service of the Association of Milk Producers